St. ANN's HOSPICE....


Dear Parent/Supporter,

The 3HG Scout Group have again been invited to assist with the distribution of leaflets in Hazel Grove on behalf of JustHelping. Locally this charity supports St Ann's Hospice.
The purpose is to appeal for donations in exchange for collecting and recycling Christmas trees and last year we were part of the scheme that raised over £19,800 (including Gift Aid) for local hospices and £231,530 nationally.....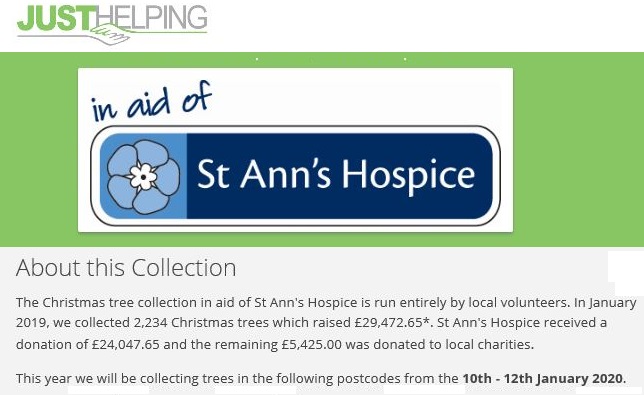 There are many available rounds if you fancy walking off the turkey and Christmas pudding with your child at the same time as doing a good turn for the community!
Please contact Brian Dooley 0161-285-0953, or Dave Phillips 01625-876993 for leaflets if you can help.
The leaflets are for posting ideally after 27th (i.e. when the present wrapping paper has been tidied away!) and before the '12th night' on January 6th.
Trees will be collected on the weekend 12-13th January 2019 so drivers/crew will be needed for vans to collect the trees and drop off at the designated recycle area.
Thank you for any assistance you can give us to help with this worthwhile cause.
I wish you all a Merry Christmas & New Year and I look forward to seeing you at our Group Dinner at the HG Golf Club on 12th January!
Brian 'Tom'