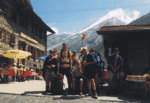 Intermediate Walk
To walk or not to walk, that was the question. We chose to walk & many a mile we did walk. The sun shone, the birds sang, and we nearly died some might say! We were hot, others were cool, but we think everyone was pleased not to be on the hard walk. General analysis: It was fun (or maybe not).
- Stephen Tarrant & Mike Scurfield

Hardest Walk
At first I was a little concerned about taking on the challenge with the athletic Venture Scouts, as they have a reputation for being extreme walkers. However, I soon found out that as well as being highly-skilled, the Ventures were also very friendly. I was also pleased when I realised that I could keep the pace. The walk started slow up a steep climb but once we found a rythmn we were soon setting a commendable pace. The walk then developed from a walk in the park (a very high park admittedly) into a spectacular mountain climb, with many splendid views. On the walk there were many opportunities to develop our basic mountaineering skills such as ice axe arrests. This was taught by Spider and we all had a chance to show off our new found skills. The mountain hut we stayed in was cosy and we all took advantage of the comfy beds, ready for an early start in the morning. Morning came (a bit to soon for some of us) and we set off with the other groups to descend down the Genni Pass into the nearby town and thermal baths of Leukebad. Where everybody enjoyed the massage area and hot pools. After lunch (£2.50 each at the supermarket), we set off for the campsite. The cable car took us back up the Genni Pass, as our feet were damaged from the descent and our muscles too relaxed from the baths. Once at the top it was a steady descent for a few hours until the next cable car was reached and the ride home began.
We arrived back at the site after an exciting few days mountaineering which will remain as one of the most exhilerating, if not tiring, experiences of my life.
Back to Kandersteg