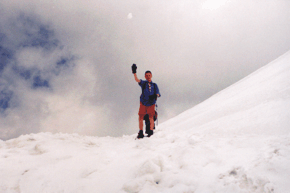 One of the highlights of the fortnight was a trip up to the top of the Jungfrau Jock on the highest mountain railway in Europe. Because the train climbed so high at such a speed, it took a bit of time to get climatised and get enough breath to move.
Because the top of the hill is well above the snow line the temperature never rises enough to thaw the area out. The visitor centre has made use of this by hollowing out tunnels in the rock and turning them into a kind of ice gallery, where even the floor, walls and ceiling are ice!
On the way back down the railway the sudden descent into a more oxygenated enviroment caused a rather humourus site, with half the train falling asleep.
Back to Kandersteg