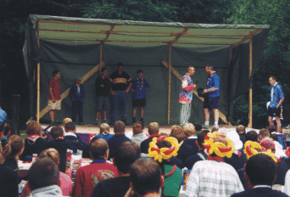 In Switzerland the 1st of August is set aside as a holiday for celebrating Switzerlands independance, and who are we to refuse a party!
The whole day was organised by the site staff and started with everone on camp meeting on the main campsite acitivty field for some entertainment, including breakfast and aerobics. After suitably embarrasing anyone who shared their Birthday with Switzerland everyone was split into groups and the games began. This was a great chance to meet people from other countries and learn to work as a team despite language difficulties.
In the afternoon there was a carnival with a stall from each of the groups staying at the site. Stalls ranged from crafts such as screen printing (Thanks Buzz) to a drenching chair and a band.
After the carnival we split off from the rest of the site for our evening meal, only to join up again an hour later for a campfire. In the evening we took part in a parade of all the Scouts and Guides down into the village to join the locals for their celebration bonfire.
Swiss National Day - The Swiss version of a bank holiday. On the campsite we played various games, and had Karaoke and stalls where you could win small prizes. And in the evening, a gigantic bonfire with traditional campfire songs from the representing countries there. An enjoyable day, almost ruined by the rain.
Back to Kandersteg