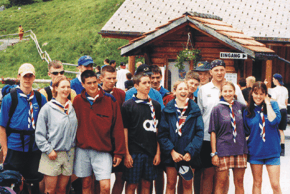 On the second day at the site we were joined by a troop from Italy for a walk up into the mountains for a swim in a alpine lake. This was the first real chance for a lot of the group to see and feel the amazing views and steep slopes around Kandersteg.
Half way through the walk we stopped off at Oeschinensee alpine lake for a quick dip, in fact for a few of us it turned out to be a very quick dip due to the water being really cold
In Oeschinensee it was very cold but a lot of fun. We had to swim from one side to the other at least once, but me and Mat Baxter did it twice. - Iain Davies
In Oeschinensee it was good, the walk was nice and easy. When we got into the lake, I jumped in and it felt really cold. Then it warmed up - Mat Baxter
After the swim and a well deserved hot drink at the cafe by the lake, we set off walking again, heading for a bit of fun, a toboggan run on the slopes above Kandersteg.
Back to Kandersteg