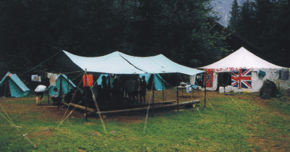 We arrived at Kandersteg Scout Site in the afternoon on Tuesday 27th July. 2nd Hazel Grove had travelled by plane as opposed to coach and had arrived a couple of days before us. They had therefore already set up a small campsite with a makeshift shelter from the rain. Once we had arrived the site soon started to take shape, as Kandersteg is such a busy international site the space allocated for us was not as large as on a standard main camp, however, we all managed to fit in.
We spent a bit of time on the site over the first few days, giving everyone a chance to get used to their new surroundings. One of the activites we did during this time was called the Kanderpoly hike a simple treasure hunt around Kandersteg village and surrounding area.
Whilst at the site we also took part in a range of activities toward the Kandersteg International Friendship Award. Examples of which include inviting a person, or group of people, from another country to join you for a meal traditional to your own country, in our case a good old Lancashire HotPot.
Back to Kandersteg