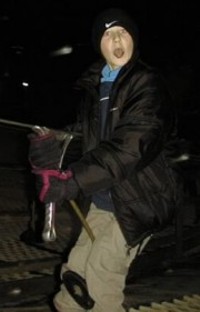 Who says Friday nights at Scouts are only spent messing around at the hut? This is definatley not the case at 3HG.
With action packed programmes most Friday nights, trips out like this are standard!
Jumping into the minibus at 7:15pm we arrived at Sheffield Ski Village just over an hour later. Whilst every one was kitting themselves out with Ski's and boots instructors from the centre were organised for those new starters. Once kitted out everyone set off for the slopes.
In total we had over a hour and a half ski, then set off back to Hazel Grove and a sleepover night at the hut.