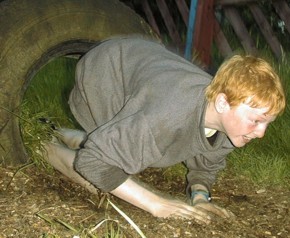 This camp saw us with less lads than usual as a group of the older lads were completing their Explorer hikes the same weekend.
The camp was held in April on a very busy Bispham Hall campsite.
With the older lads missing it was a prime opportunity for basic training. On the Saturday morning we covered topics such as fire and primus lighting and Axemanship.
A majority of the meals during the camp were cooked on wood fires, therefore limiting the time free for other activities. During the afternoon we built a 2 rope bridge between two trees and demonstrated the pulley system.